Tesla against the rest of the world
Tesla published its results last night. The company had already communicated previously about the number of deliveries in the first quarter of 2021: 184,800 vs. 180,600 in Q4 2020 and 88,500 in Q1 2020.
Like every quarter, the results are inflated by the sale of carbon credits. Without these and without the capital gain on the sale of bitcoins, Tesla lost $25 million at the operating level.
The question surrounding Tesla remains the same: does it make sense that this manufacturer is valued two times the whole European automotive sector which includes the world's largest manufacturers (Volkswagen, Daimler, BMW, Stellantis and Renault)?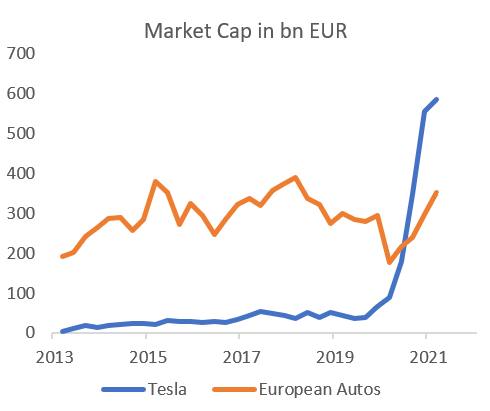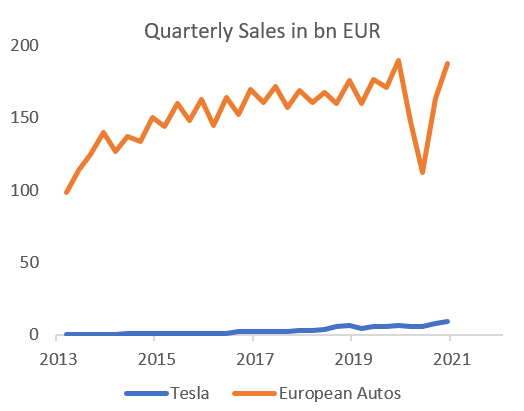 Source: Bloomberg
Tesla benefits from an exceptional valuation premium. Some analysts consider Tesla as a pure player in the electric vehicle industry, making it a growth company. Having been well ahead of its competitors, some have mentioned a leader's premium on the idea of "the winner takes all". Yet the reality is the following: 1) Tesla has been the leader in the electric vehicle market but is expected to lose its number 1 position as early as this year, and 2) Tesla has been losing market share for a year, since European manufacturers' vehicles are available for sale.
These facts do not appear to affect the status of the American company. Is it sustainable?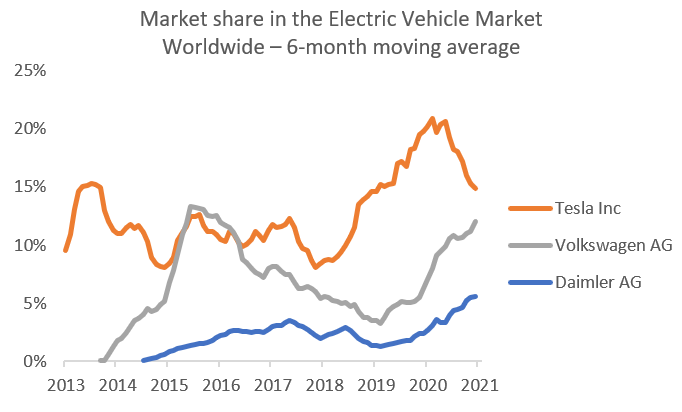 Source: Bloomberg
---
Last articles
Consumers' payment habits in Europe
8 February 2022
The ECB conducted a study on payment habits in Europe in 2019: Study on the Payment Attitudes of Consumers (SPACE); https://www.banque-france.fr/sites/default/files/media/2021/11/25/space_2020-12.pdf. Although the covid crisis has certainly changed these habits, the analysis remains relevant to compare the differences in practices within Europe..
Read the article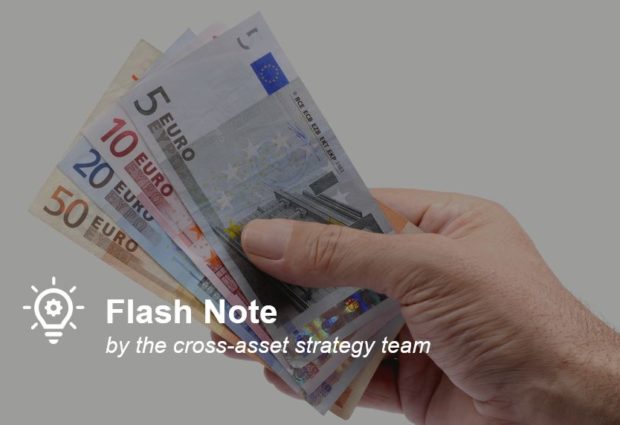 Robinhood – a textbook case of financial analysis
1 February 2022
Robinhood was created in 2013 in the San Francisco area, a few miles from Stanford University. It was at this prestigious university that Vlad Tenev and Baiju Bhatt met. Their ambition was strong: to democratize the financial markets by offering easy access to all apprentice traders. Their slogan was quickly found: "Investing for Everyone". They […]
Read the article